Fast Relief For Chronic Foot Pain
Call (480) 994-5977 To See If StimRouter Treatments Are Right For You.
Dr. Jacoby speciailizes in relief for your painful foot and ankle pain. If you are not able to get the pain relief you want from other treatments or are worried about taking opioids, other options are available, including the minimally invasive StimRouter Peripheral Nerve Stimulation (PNS) procedure.
Complete the form below to contact Dr. Jacoby today and get on the road to recovery.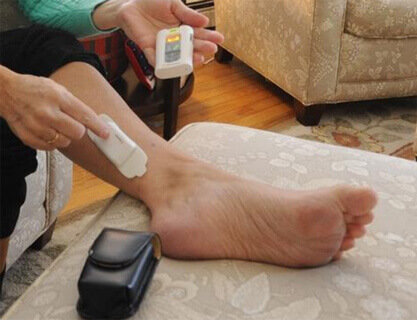 Have you been to other doctors that can't help? Have you tried injections, drug therapy, physical therapy and want to avoid surgery?
Our Highly Effective Foot & Ankle Pain StimRouter Treatment May Be Precisely The Answer You've Been Looking For!
Stop suffering from chronic foot pain.
If you're suffering from chronic foot or ankle pain and have been unable to find relief from typical treatments, you may find a solution in the StimRouter implant. Chronic foot or ankle pain can result from injury, illness, or prior surgery and is often treated with physical therapy, medication, and/or injections. Some of these treatment options, however, fail to give patients relief and can come with a long list of side effects. This is where the minimally invasive StimRouter Peripheral Nerve Stimulation (PNS) procedure can become a viable option.
StimRouter works by specifically targeting the nerves causing pain symptoms. The StimRouter implant is inserted during a minimally invasive procedure using local anesthesia. Pain management can then be controlled by the patient via a remote control. StimRouter is set up specifically to each patient's individual symptoms and needs, and lets the patient be in control of their therapy.
To learn more about StimRouter and determine if it's right for you, schedule an appointment with our office.

Meet Linda.
StimRouter for chronic leg pain
"Life is fabulous now. I have minimal pain. I know how to take care of it now with my device. Life has turned around, truly turned around."